Mazunte is a magical town in Oaxaca but we like to call it the "magical beach of Oaxaca". It is worth mentioning that both Danny and I cried when we left because it is a very special place.
The truth is that there is nothing like Mazunte Oaxaca, it is a unique destination and among travelers who know Oaxaca has earned the reputation of being a hippie place, the most hippie of the state.
Forget about the big hotel chains and all-inclusives, this place is not made of plastic, it is real and unique.
Let's see everything you need to know to visit this magical beach.
---
Top 10 Things to do in Mazunte Oaxaca
The Oaxacan coast is one of the most beautiful coasts of Mexico, we loved it and that is why we spent about 1 month getting to know it. Here we will talk about the most hippie destination of the Oaxacan coast so without further ado let's see what to do in Mazunte.
Pay attention! this should be the priority when you are thinking about places to visit in Mazunte.
10. Take a Yoga class
As we have mentioned before, Mazunte is a hippie place and that is why yoga lovers could not miss it.
If you visit this magical town of Oaxaca Mazunte, taking a yoga class is one of the things you can do no matter if you are an expert or a beginner.
If you are interested in this, you can go to the Hridaya Hatha Yoga center.
---
9. Go to Mazunte Cosmetics
Cosméticos Mazunte is a store that has become famous in this magical town for producing its cosmetics in a natural and sustainable way and this makes it one of the places to visit in Mazunte.
Going to this store and buying something is one of the things to do in Mazunte because their products are unique and you will hardly find them anywhere else.
There are 2 main reasons to buy your cosmetics here:
You will help the environment
You will help the local community to thrive and continue to grow.
8. Whale watching
This can only be done in season, so if you visit Mazunte between December and March you can hire a tour or boat to take you to see humpback whales.
You can also do it from Puerto Escondido.
7. Learning SkimBoard
We didn't know this sport until we saw it in Mazunte, I must confess that we didn't learn it but after asking a guy who was practicing we discovered that there are people who give classes and teach you this magical sport.
If you need more information to take classes, we suggest you ask at the tourist module located at the beach "El Rinconcito".
The truth is that just watching this sport is quite a spectacle, so if you decide not to practice it, you will surely get a good taste in your mouth just by watching it.
---
6. Visit Mermejita Beach
I warn you once and for all: The beach is beautiful but there is no shade.
It is a fact that mermejita is a beautiful beach in Mazunte; however, we recommend that you go prepared.
Bring your umbrella, plenty of sunscreen and also enough water because the sun hits hard. (Remember not to litter!)
---
5. Surfing or Paddle Boarding
Other sports you can practice in Mazunte are surfing and paddle boarding although I repeat that, from my point of view, the sport you should try in Mazunte is skimboarding.
---
4. Watch the sunset at Punta Cometa
Some say it is the best place in Mexico to see the sunrise or sunset and believe me, when we were there we understood why.
Punta Cometa is basically a natural viewpoint, with a beautiful landscape, a beach that makes you fall in love and a view that stops time for its magnificent beauty.
If you don't want to go at sunrise or sunset, we think it's still worth a visit.
---
3. Visiting the Mexican Turtle Center
It is true that in any of the three beach destinations in Oaxaca you can see and participate in turtle releases; however, Mazunte has the Mexican Turtle Center, an enclosure where this animal is protected and where you can learn about it.
Visiting the Mexican Turtle Center for us is one of the things to do in Mazunte because it allowed us to learn a lot about the care and life of the turtle.
The enclosure has an "aquarium" and sections where you can observe all kinds of turtles.
---
2. Knowing the Ventanilla reserve
Ventanilla is not as such in Mazunte but I have decided to put it here because it is really close (15 – 20 minutes by Taxi) and the experience is amazing.
Now, Ventanilla is the place that should go to the top of your list of things to do in Mazunte. We wouldn't have gone if our friend Toño hadn't convinced us, and boy are we grateful that he did!
We did not have high expectations of the place but it ended up being one of our favorites, we had never seen crocodiles and giant iguanas in their natural habitat and so close.
The tour itself is beautiful because it allows you to see birds of all kinds and an incredible ecosystem, so I repeat once again, going to Ventanilla is one of the things you must do in Mazunte.
---
1. Mazunte Beach and "el Rinconcito".
El Rinconcito is part of Mazunte beach and is our favorite spot in the destination.
Don't get me wrong, all of Mazunte beach is suitable for an excellent day; however, the little corner is a special place in our hearts.
Definitely one of our favorite beaches, because during the time we were in Mazunte there wasn't a day we didn't go swimming, the beach is beautiful, the sea has the perfect temperature and the sand is just relaxing.
Places to visit in Mazunte Pueblo Magico
If you want to get a better idea of what to see in Mazunte, we recommend you to watch our video.
To get to know Mazunte we recommend using one of these excursions:
---
What to visit in Mazunte
There are some activities that are not from Mazunte but due to its proximity can be easily done if you are visiting this destination. I am telling you this so that you know that they can be done without the need to change accommodation.
Zipolite
Zipolite is not as such in Mazunte but you could say that it is a sister beach to the magical Oaxacan town and, as it is really close, we decided that it deserved to be mentioned as one of the things to do in Mazunte.
The attraction of Zipolite is that it is the only official nudist beach in Mexico, which means that nudism is allowed and does not represent any legal problem.
If you want to have the experience of walking on the beach naked this is the perfect place, there is a lot of respect so there is nothing to worry about.
Manialtepec
One of the most famous attractions of Puerto Escondido is the bioluminescence effect that can be seen in the lagoons of Manialtepec and Chacahua.
It is important to know that if you are staying in Mazunte you can hire an excursion from there.
How is Mazunte Pueblo Magico
To see what this tourist destination is like, we recommend watching this video:
---
Mazunte Hotels
Although I told you above that Oaxaca Mazunte was a place where you could forget about 5 star and all inclusive hotels, this does not mean that there are no luxury places to stay.
These are the 3 best options:
Hotel Casa Pan de Miel
(Luxury Hotel)
Zoa Hotel
(Luxury Hotel)
Casa Lu
(Luxury Hotel)
If you are looking for an economical but good quality option, then these are the right places to stay.
Pochote Mazunte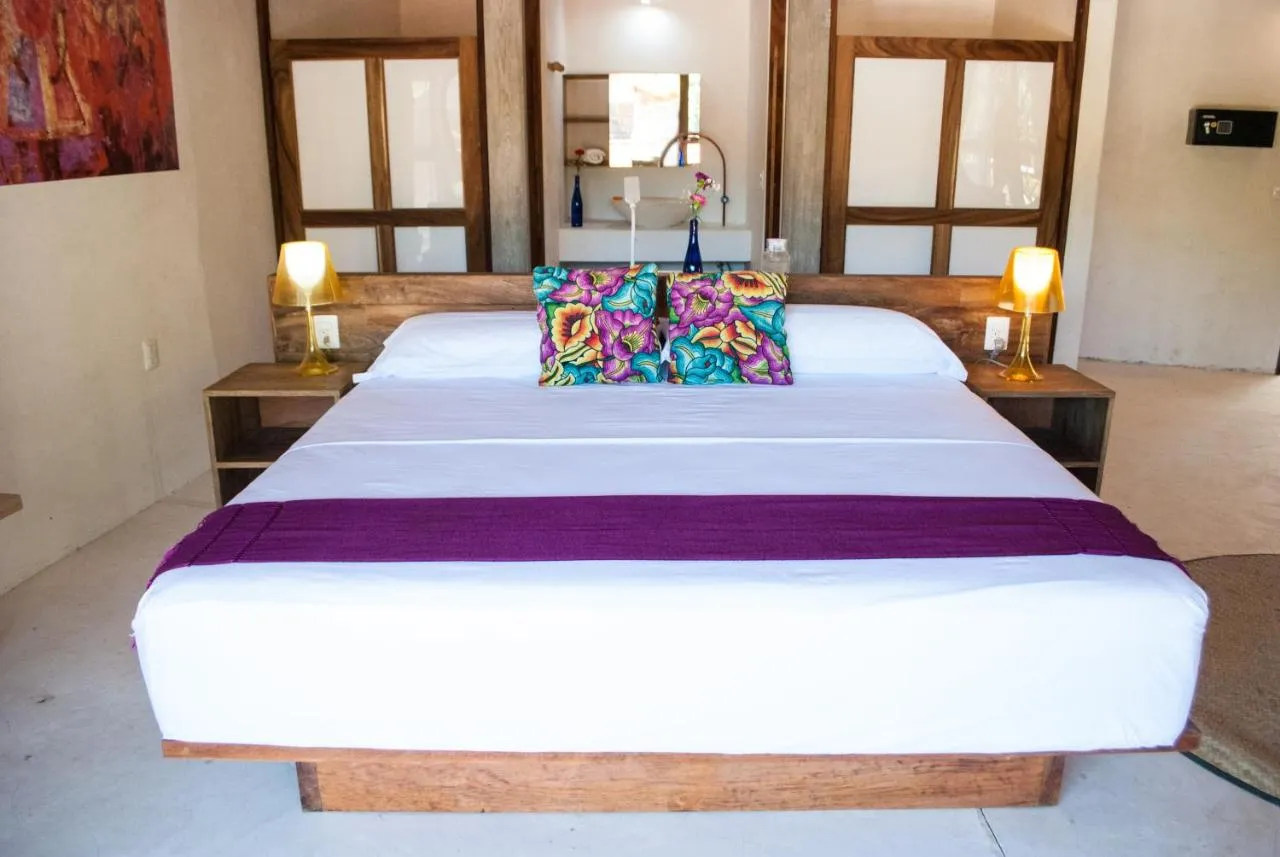 (Hotel for tourists)
Olivo Inn
(Inn)
The Eden Bungalows
(Bingalows)
🏨 If you need accommodation, we recommend looking here 🏨
---
How to get to Mazunte Oaxaca
To get to this beach destination we can do it by air or land; however, you should consider the following:
You can't get there directly by plane so what you have to do is:
Aim the flight to Puerto Escondido or Huatulco.
▷ B est prices on airline tickets
2. Arriving at any of the destinations you can take a bus to Pochutla and from there go to Mazunte or you can rent a car in any of the 2 cities (Puerto Escondido or Huatulco) to go to this place.
▷Si quieres rentar un auto, te recomendamos buscar aquí 🚗
Mazunte has no bus station, so if you want to get to this part of Oaxaca you should do the following
Point your bus from wherever you are to: Pochutla, Huatulco or Puerto Escondido.
Arriving at any of these, you must take a cab or collective transportation to Oaxaca Mazunte.
Pochutla is the closest town to the magical town, about 20 minutes away.
▷ To get by bus to this destination, we recommend you to look for your tickets here
If you dare to rent a car or just go by car, to get there just put "Mazunte" in the gps of your cell phone. Anyway I leave the map below so you have the exact location.
---
How to visit Mazunte
You can visit Mazunte in different ways, you can stay in Mazunte and spend a few days in the destination or you can use a day trip if you are in Puerto Escondido or Huatulco.
The excursions we recommend to visit Mazunte are these:
---
How much does it cost to travel to Mazunte
Budget in pesos and per person
Backpacker
Tourist
Luxury Traveler
Hosting
1-2 persons
$600
$1250
$3300
3 Meals per day
$180
$350
$500
Transportation
inside Mazunte
$0
$50
$100
Budget per Person per day
$780
$1650
$3900
+Turtle Center
$20
$20
$20
+Water sports class
N/A
500
500
+ Visit to Ventanilla
+Purchase of product(s)
in mazunte cosmetics
50
150
250
Prices are approximate and are intended to give an idea of the travel budget, they may vary or change over time.
Remember that you can also use these excursions to visit Mazunte:
---
---