Are you traveling to Oaxaca's most famous beach destination or are you already there and want ideas for things to do in Huatulco? You've just come to the right place!
Huatulco is one of the most visited destinations in Oaxaca, loved by Canadians and traveling families alike, Huatulco Oaxaca has earned a reputation as one of the best resorts in the country.
We enjoyed it very much and we understand why the Canadian population has selected this destination as their winter refuge.
Guide of things to do in Huatulco
If you are interested in a quick and definitive guide of what to visit in Huatulco, we suggest you watch the following video:
---
What to do in Huatulco
Enjoying the beach
I think this one could not be missing among the things to do in Huatulco, most people go to a beach to rest so we had to mention it.
The best beaches in Huatulco are:
Santa Cruz Beach (Most visited)
Tangolunda. (The most popular)
Chahué Beach(The largest)
Bahía Maguey (The smallest but the most renowned for its seafood dishes).
Punta Arena Beach (One of the most exclusive and most private beaches in the area. It can only be reached by sea)
San Agustín Beach. (Of the most beautiful)
Conejos Beach. (The most beautiful)
One of the best things you can do is lay on the beach with a cool drink and enjoy a full day of sun, sand and sea.
---
Taking a Guided Tour of Huatulco
Why is it worth taking a City Tour in Huatulco?
Because the City Tour covers several things to know in Huatulco, it takes you to the viewpoints from which you can get unique views of the destination. You will visit the Bocana viewpoint, the Tangolunda viewpoint, the Faro viewpoint and the Santa Cruz viewpoint.
In addition, you will learn about the history of Huatulco, go into the village of La Crucecita to tour it and hear a great story about its famous church.
And if that were not enough, the excursion will take you to taste typical Oaxacan dishes such as quesillo, chapulines, chocolate, mole negro, rojo or coloradito and, of course, you will taste mezcal.
At the end of the tour you will visit a pre-Hispanic loom workshop where you will learn how they are made.
---
Visit Huatulco National Park
If you like nature and hiking then going to this ecological reserve is a must do.
To get to know Huatulco National Park you should use the Hiking and Snorkeling in Huatulco National Park excursion.
On this tour you will start with a two-hour hiking route that takes you to the famous Cacaluta Beach. Afterwards, you will snorkel in three different environments and you will finish the tour by visiting the most important viewpoints of the destination.
---
Sport Fishing
That's right! Sport fishing is another of the things to do in Huatulco. Going into the sea to practice this sport can be a good idea if you like this kind of activities.
If you like this sport or if you want to have your first open sea fishing experience, this destination is a good place to try it.
---
Take a surfing lesson
In case you didn't know, the Oaxacan coast is ideal for learning to surf.
If you have time, one of the things to do in Huatulco is to learn how to surf. You can hire a class or even a complete course to learn this sport.
---
Places to visit in Huatulco
Where to go in Huatulco? If you want to know which are the best tourist attractions in Huatulco or simply want to know which places to prioritize in your visit, here are the 3 must-see places:
The Bays of Huatulco
Huatulco is famous for its bays and its natural reserve and for that reason, we consider that the bays of Huatulco should be on your list of things to do, this is probably the most famous attraction of this destination and the truth is that you should consider them as a must-see.
The bays have been protected as a natural reserve for years, and can only be visited by taking a tour or hiring a private excursion, since it is impossible or extremely difficult to access them on your own.
To visit the Huatulco Bays we recommend:
If you want to get an idea of what it's like to visit the bays, check out our video:
The magical waterfall of Copalitilla and Llano Grande
Another place to visit in Huatulco is the Copalitilla Waterfall. It is interesting because it is not only about the waterfall, the whole tour takes you through trails and incredible nature.
I would love to tell you that you can visit this place on your own but, like the bays of Huatulco, the arrival is quite complicated so it is best to hire an excursion.
To visit the magical waterfall of Copalitilla and Llano Grande we recommend:
Mazunte, Ventanilla and Zipolite
Visiting these destinations is another activity you can do in Huatulco since they are approximately 1 hour away.
Mazunte is a magical town with lots of charm, Zipolite is the only place in Mexico with a nudist beach and Ventanilla is a super interesting reserve where you can see birds, crocodiles and iguanas.
To visit these destinations we recommend:
---
What to do in Huatulco on a budget
Visit the Museum of Oaxacan Handicrafts
In La Crucecita you can visit the Museum of Oaxacan handicrafts where you can see backstrap looms, black clay handicrafts, traditional costumes, dyed tapestries and more.
Especially if you want to get an idea of the typical handicrafts of Oaxaca, visiting this museum is a good idea.
Visiting the markets
Another thing to do in Huatulco on a budget is to visit the markets.
This destination has gastronomic and handicraft markets, so it is an excellent idea to go around to taste culinary delights or buy typical handicrafts.
Best of all, it doesn't take a lot of money to do this.
Eating some of Huatulco's gastronomic specialties
You should take advantage of your visit to eat some of the typical dishes of Oaxaca, especially if it is one of these:
Las Tlayudas as anywhere in Oaxaca.
Shrimp with mezcal
The quesillo
Mezcal
El Tasajo
Several of these dishes can be found in the state of Oaxaca and do not necessarily require a lot of money.
The one I would prioritize on my list of things to eat would be the shrimp with mezcal, as it is a more exclusive dish of the destination.
Tip: We suggest using this Huatulco City Tour to enhance the experience and add a plus to your trip.
---
Activities in Huatulco
Here are some other activities you can do in Huatulco that may be of interest to you.
---
Hotels in Huatulco
Huatulco has an important hotel infrastructure so it is easy to find an option for all types of travelers, no matter if you are a tourist, backpacker or luxury lover, there is something for everyone.
To make it easier for you to select a Hotel we have the following recommendation:
Camino Real
This hotel is probably the most luxurious option to sleep in Huatulco.
It is located in Tangolunda Bay, its rooms and services are excellent and have direct access to the beach so you could spend your entire vacation without leaving the hotel if you wanted to.
Villas Maria Isabel
Located in Tangolunda Bay, it is one of the best options in terms of price – quality ratio. Ideal for families and tourists who want to visit this destination.
Hotel Xestal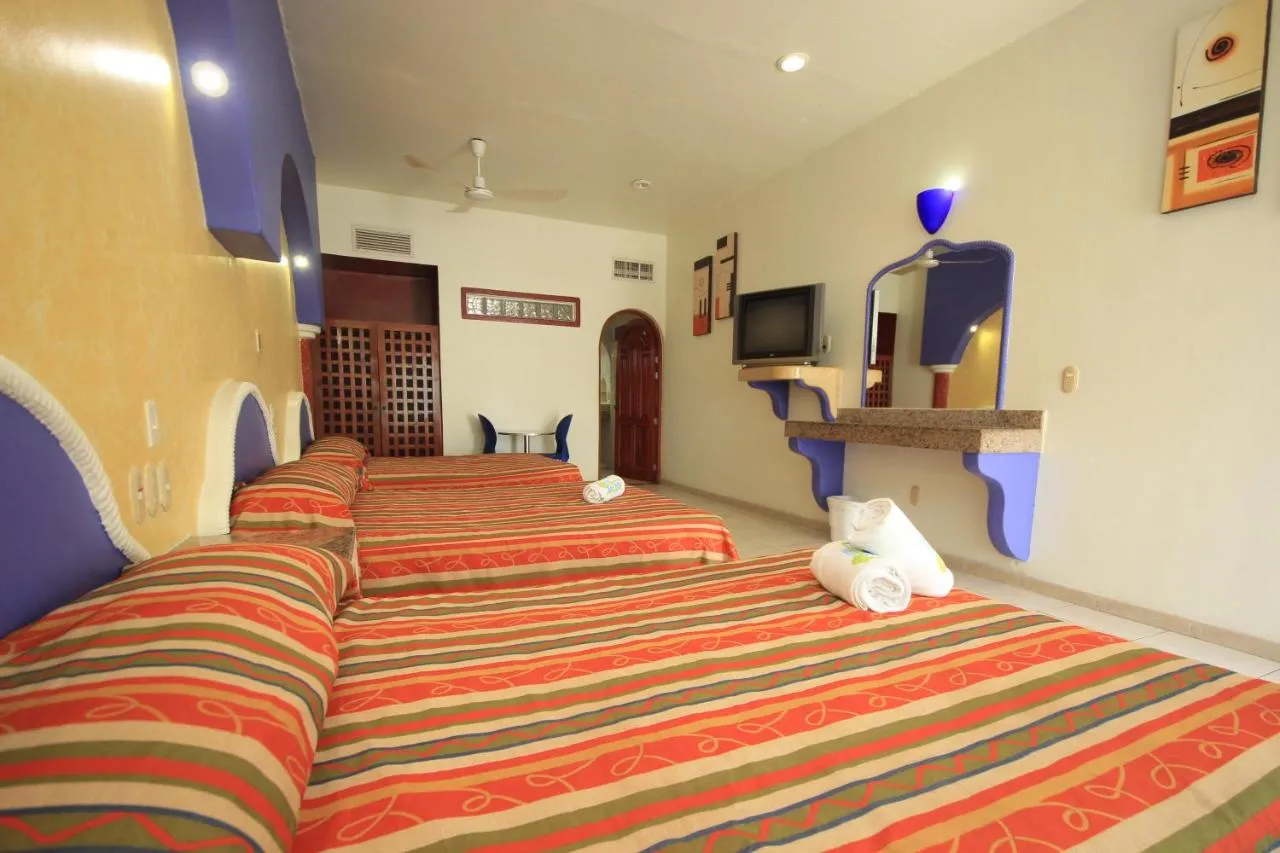 Although not directly on the beach, this lodge is close to Chahué and Santa Cruz and has several dining options nearby.
🏨 If you need accommodation, we recommend looking here 🏨
---
Flights to Huatulco
It also has an airport, so you can arrive by plane without any problem.
Direct flights can be found from: Mexico City, Guadalajara, Tuxtla, among others.
▷ B est prices on airline tickets
---
How much does it cost to travel to Huatulco?
Now let's see how much money you should bring to Huatulco.
| | | | |
| --- | --- | --- | --- |
| Budget shown in pesos | Backpacker | Tourist | Luxury Traveler |
| Hosting | 800 | 1200 | 2700 |
| Food | 150 | 360 | 500 |
| Transportation | 100 | 150 | 200 |
| Budget per person per day | 1050 | 1710 | 3400 |
| Budget in dls | 50 | 85 | 170 |
Prices are approximate and are intended to give an idea of the travel budget, they may vary or change over time.
Prices are approximate and are intended to give an idea of the travel budget, they may vary or change over time.
---
Huatulco Tourism
The best time is in the dry season, although the truth is, it is a destination where the rainy season does not affect much, so any date is good.
You may also be interested in going during whale season (December-March).
Tips for traveling to Huatulco
Climate: Most of the year is usually warm sub-humid with an average temperature of 28 ºC (82ºF). It is presumed that 330 days out of 365 are sunny and the rainy season is from June to mid-October.
We recommend that you bring
---
Other destinations in Oaxaca you may be interested in